Less than an hour from Houston, Galveston is a popular vacation spot all year round for Texans and visitors due to its stunning beaches and historic downtown.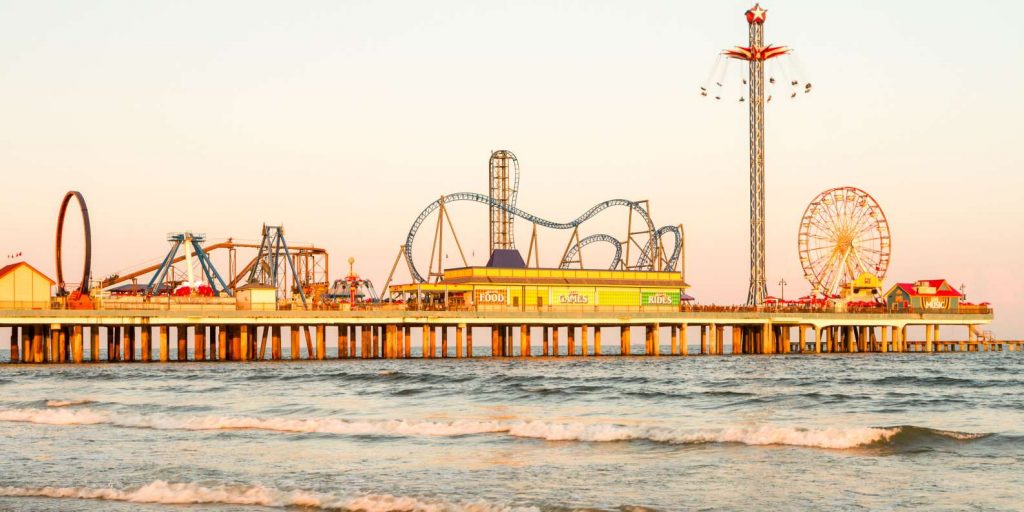 Coastlines of Galveston
From spring till fall, throngs of people gather here to enjoy the turquoise waves lapping at the seemingly endless expanse of smooth sand that fronts the ocean. There is plenty of area to choose your own patch of sand and space to play in the shallow, frequently calm sea because the Seawall stretches for more than 10 miles along the beach.
Historic Strand District
The Galveston Strand Historic District, usually referred to as the Strand, is a National Historic Landmark District that is primarily made up of Victorian-era structures, many of which were spared from the Great Storm of 1900. Today, it is home to a large number of eateries, cafés, galleries, and antique shops, making it a lovely location for some sightseeing, shopping, and dining.
Dolphin Observation Tour
Galveston Dolphin Sightseeing Tours are well-liked by visitors to the island because playful dolphins frequently inhabit the Gulf of Mexico seas nearby. In order to find dolphin pods, the guided journey takes you on a one-hour narrated boat tour that departs from the harbor at Pier 21.
Pyramid at Moody Gardens and Aquarium
There are activities for the whole family in the sizable complex known as Moody Gardens. You could easily spend the entire day here, or you could spend a few hours seeing just one of the many sights. The three glass pyramids are the most prominent characteristics.
The Bryan Gallery
This museum exhibits a varied collection of art and artefacts from the American West, spanning more than 12,000 years, and is housed in a gorgeous historic structure that was previously the Galveston Orphans Home. Everything from Native American history to the Spanish Colonial Period and Texas Independence is included in the permanent collection.
Book cheap flights for Galveston for your memorable holidays on Bestfaredeal.com