Matamata is a lovely hamlet on New Zealand's North Island, nestled in the shadows of the Kaimai Range Mountains. The verdant green field of the Hamilton – Waikato region, located two hours south of Auckland, is noted for dairy rearing and fine pure-bred horses. The Hobbiton Movie Set, located southwest of town, was built for Peter Jackson's "Lord of the Rings" and "Hobbit" films. This region was chosen to symbolize Hobbiton and The Shire because of its beautiful green meadows and rolling hills.
The village of Matamata is great for Hobbit lovers because they can take a guided tour of the Hobbiton Movie Set. Bag End (Bilbo's abode) is one of more than 44 private hobbit holes in the area. Listen to the interesting discussion on how the complete set was developed while strolling through the heart of the Shire.
Before stopping for a drink at the Green Dragon Inn, you'll pass by a mill, a double-arched bridge, and the famed Party Tree. Visitors can even take part in evening tours, which feature a feast fit for a hobbit!
There are a handful of fantastic farm stays in Matamata. Wairere Falls, the highest waterfall on the North Island, is located east of town. It falls from a height of 153 meters, creating a spectacular vista. The Wairere Falls walking pathway showcases the valley's and Waikato Plains' various natural scenery.
Things to Do in Matamata
Although Matamata is a small town, there is enough to do here. There's plenty to do here, from taking a tour of the Hobbiton Movie Set to ascending the Kaimai Ranges and eating dinner while taking in the famous vistas of the region.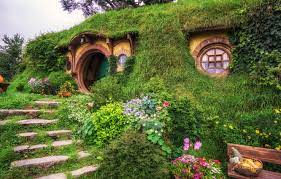 Hobbiton Movie Set
One of the most popular things to do in Matamata is to visit the Hobbiton Movie Set. Explore the famed Bag End and hospitable Hobbit holes before stopping for a cool drink at the Green Dragon.
Matamata Heritage Trail
This heritage walk winds its way through the town's parks, backyards, and historical sites. By wandering along the trail, you may see the region's significant attractions.
Kaimai Cheese Factory
Kaimai Cheese, which is housed in a recreation of a vintage 1920s butter factory, allows you to sample a variety of cheeses ranging from camembert to blue vein. Enjoy lunch in its café, observe the cheese-making process, and take home some of the best Waikato cheeses.
Wairere Falls
Wairere Falls is one of the highest on the North Island, standing at 153 meters. Fall offers stunning vistas of the Waikato region, as well as a stroll through the rich native flora. A 3-4 hour return drive will reward you with the most beautiful vistas of life.
Swimming Spots & Hot Pools
Many hot springs and swimming possibilities can be found on the outskirts of town, making this a fun place to visit.
Dalton's Plantation
Dalton's Plantation, which is close to town, has ten acres of beautifully manicured gardens as well as a great café where you can relax and enjoy a lovely time.
Firth Tower
Firth Tower was completed in 1882 and is just a short distance from Matamata's town center. It is ideal for social gatherings because it is situated on lovely park-like grounds.
Wallace Gallery
The Wallace Gallery in Morrinsville is a venue for showcasing regional art and artists. It houses the most complete collection of contemporary New Zealand art currently available.
So, what are you waiting for? Go for flight booking at Bestfaredeal and have an amazing time at Matamata.